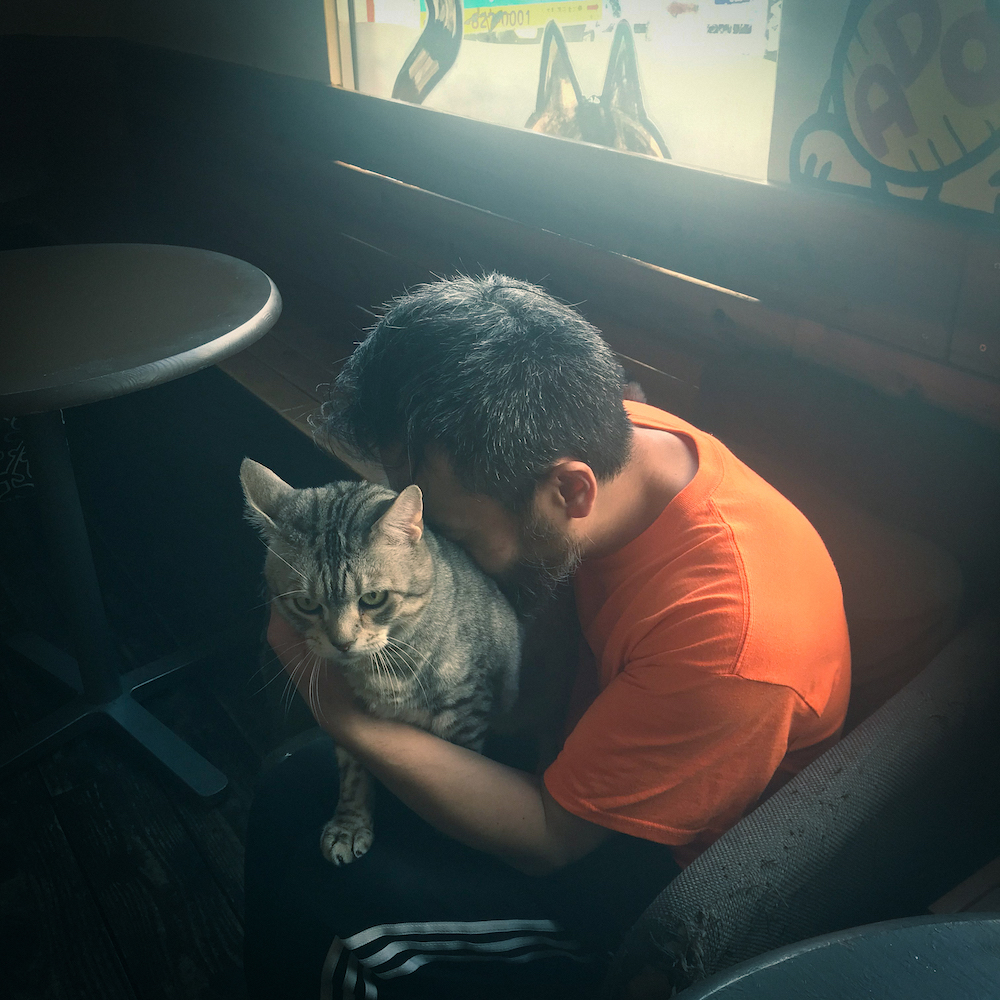 Listen & Buy
Artist: Gebo
Album Title: Deep Night Walking
Release Date: 2021.05.10
Format: Streaming / Download
Catalog No: TCD0020
Label: Twin Capital
TRACKLIST
Deep Night Walking
Above the Clouds ft. Ruby
Window Breaker (Interlude)
Undertow
Lightyears Away
Rainy Days
Above the Clouds (Reprise)
Lazy Land Zoo ft. Y.U.P., Hoppy, Kroud
Music Production: Hamacide Leb Laze
Cover Photography: Ado
Mastering: Yosi Horikawa
Deep Night Walking is Gebo's first release on Twin Capital. Futuristic synth sounds with boom-bap beats by Hamacide and Leb Laze lay down the foundation of Gebo's skillful rapping and singing. He weaves in and out of Japanese and English with references and wordplay that cross cultural barriers.
BIOS
Gebo
GEBO is an Osaka-based rapper and producer who has been an integral part of the Kansai hip hop scene since the early 90s. He is the founder of SUPPON Records, curating hip hop music and culture since 2004. Gebo has released music in Japan, the US, and the UK and has performed all over Japan and has toured the US West Coast with collaborators Acid Reign [Alpha Pup]. in Los Angeles alongside hip hop heavyweights MYKA9, and SELF JUPITER (Freestyle Fellowship) as well as Alpha Pup artists, Acid Reign.
2001: Released My Soodie EP on vinyl from 2CB / fix [UK]
2002: Appears on Metamorphose
2003: Released 1st album Driveshow
2003: Solo show with AFRA and TES (Lex) at Pianos, NYC
2004: Launched Suppon Records
2007: Released 1st album as Art of Vibes Vibes
2009: Released 2nd solo album Gebolution
2010: Released 2nd album YEAH !!! as Art of Vibes
In 2013, Gebo traveled to L.A. to perform at the official shop opening for hip hop label Delicious Vinyl. During his stay in LA, he produced music with Freestyle Fellowship's Myka9 and Self Jupiter. In the same year, he was a member of house music orchestral band, A Hundred Birds Orchestra, and performed at Fuji Rock Festival with them.
October 2014: Released Gebo & DJ Nao-K Green Journey EP
January 2015: Released Gebo & Aokidesu Good Times EP
March 2015: Released an album with LA's Acid Reign [Alpha Pup] titled "Losaka" under the name Acid Reign & Gebo
May 2015: Goes on Cali Cruise US West Coast aslbum release tour with Acid Reign
January 2017: Released Indie Rap (OMSB Remix) 7" vinyl on Cocolo Bland
March 2017: Released It's a New Day EP as Gebo & Ear Madder. Includes Just Intuition feat. ECD recorded on ECD's best of compilation album 21st Century ECD
January 2018: Released Super Night as Gebo & Nickelman
2019: Released Chikuma EP as MC Gebo & Nao-K
1993年からリリックを書き始める。2000年からART OF VIBES等で活動。2001年にUKのレーベル(2CB/fix)よりUKAI+GEBO『My Soodie EP』をVinylリリース。翌年"メタモルフォーゼ"に出演。2003年に1st.アルバム『driveshow』リリース。2004年に自主レーベル"SUPPON RECORDS"を立ち上げ、2007年にART OF VIBESの1st.『ART OF VIBES』、2009年に2nd.ソロ『GEBOLUTION』、2010年にART OF VIBESの2nd.『YEAH!!!』をリリース。
2013年にL.A.に渡り、HIPHOPレーべル"DELICIOUS VINYL"のオフィシャルDV SHOPオープニングパーティーに出演。LA滞在中にFREESTYLE FELLOWSHIPのMYKA9やSELF JUPITER等と共に音楽制作を行う。同年よりハウスミュージックのオーケストラバンド、A Hundred Birds Orchestraのメンバーとしても活動しており、"FUJI ROCK FESTIVAL 2013″に出演。
2014年10月にGEBO&DJ NAO-K『GREEN JOURNEY』EP、2015年1月にGEBO&AOKIDESU『GOOD TIMES』EPリリース。
2015年3月にLAのACID REIGNとの共同アルバム『LOSAKA』をACID REIGN&GEBO 名義でAcid Lab Recordsよりリリース。同年5月に約1ヶ月間に渡り、ACID REIGN&GEBO『LOSAKA』西海岸リリースツアー"Cali Cruise"を敢行。
2017年1月に「INDIE RAP(OMSB REMIX)」をCOCOLO BLANDより7インチリリース。
2017年3月にGEBO&EARMADDER『IT'S A NEW DAY』EPリリース。ECD氏のベスト盤『21世紀のECD』に収録された「ただの直感 feat.ECD」収録。2018年1月にGEBO&NICKELMANでアルバム『スーパーナイト』リリース。2019年にMC GEBO&NAO-Kで『CHIKUMA』EPリリース。超高速ラップとR&Bスタイル、多彩なフロウとリリックの濃度、変幻自在な表現力や様々な音に反応するsessionやフリースタイルはオリジナルで真骨頂。
Hamacide
Nagano, Japan (father) + Tokyo, Japan (mother) = Atlanta, GA (born) => New York => Shanghai => Tokyo
HAMACIDE is a Japanese-American producer based in Tokyo and the co-founder of Twin Capital record label. Born in raised in Atlanta, HAMACIDE grew up listening to and playing classical music. While in Atlanta, he worked audio on a multitude of Dirty South hip-hop video sets. After moving to New York City in 2002, he found himself working as an audio engineer for Broadway and off-Broadway theater. From there, he moved to Shanghai, China where he met collaborators ChaCha and Downstate (his partner in a collaborative project called S L V).
HAMACIDE has put out a number of albums and several remixes along the way, starting with LEYODE's "fascinating tininess…" on Prefuse 73's Eastern Development Music in 2007. Since then, he's released on Shanghai's SVBKVLT label as one half of S L V, and on Japan's Oilworks and Blacksmoker Records, and Victor to name just a few.
日本、中国、米国で活動する日系アメリカ人プロデューサー、HAMACIDE (ハマサイド)。
米国アトランタ出身のHAMACIDE は、幼少期にクラシック音楽に触れ、 サウス系ヒップホップビデオのサウンドエンジニアとしてキャリアをスタート。ニューヨークへ移住し、ブロードウェイの様々な劇場にて音響技師として努める。その後、中国上海へ移住し、現在多数のプロジェクトを行うシンガー/プロデューサーのChaCha(チャチャ)、SLVにてパートナーを組むプロデューサー Downstate(ダウンステート)と出会う。
2007年にはLEYODE(リヨード)の "fascinating tininess…"を Prefuse 73のEastern Development Musicからリリース。それ以降、上海のSVBKVLTレーベルからS L Vの傍として多数の作品をリリースし、日本ではOilworksや Blacksmoker Recordsと言ったレーベルからもリリース。
Leb Laze
Leb Laze is the moniker of Atlanta-based artist Ryan Rasheed. He has released solo ventures on Asthmatic Kitty, Eastern Developments, and Geographic North labels, but is also known for his collaborations with Prefuse 73 and as one half of production duo Aux Mirari. Leb Laze's eclectic range in production can be heard in his work with Shy Layers, Eartheater, Diane Birch, Malcolm Voltaire and Helado Negro. Gritty and addictively bouncy beats rooted in the South are signatures of Leb Laze's "machine funk".